When is a "Key Comic" Really a Key? Plus Contest Giveaway!!!
Key (adjective) – of paramount or crucial importance.
Synonyms – crucial, central, essential, pivotal, critical, etc.
"That's a key comic!"
This is a phrase I've been hearing far too much as of late. Pardon my lack of typical introduction, but A.J. Diesel has a hot take in regards to the people running around calling random comic books "keys". It appears that some new-school comic book schmucks believe it is necessary to deem every flavor of the week comic book a "key". Sorry not sorry, but not every Adam Hughes cover or Donny Cates story is a key comic book. And I personally collect AH covers. It's also a stretch to call a first appearance of any of Novas rogues gallery a key. It's time to stop the madness when discussing key comic books. Labeling all of these trivial comics a key is destroying the market. There is a huge difference between a key comic book and a HOTT one. Sure it drives the secondary market fools who have a fear of missing out, but all it is really doing is tricking new readership and collectors into believing these books are "must haves". Maybe if people stopped doing this and bought for the read, publishers would worry more about the quality of the story as opposed to the garbage we get today.
Take Captain Marvel #8, which dropped yesterday. It has about five different covers and features the first appearance of Star! Woohoo! The "carnege-ized" In Hyuk Lee variant, is selling anywhere from $9.99-$30.00 on the electronic bay currently. News flash, my comic shop alone ordered 18 copies…of just the Carnage variant! How many other stores likely did something similar? I've also been hearing everyone saying "the 1:25 ratio variant is the one to go after". Uhmm, what? So we're now seriously only buying a book for its rare cover? The story is the exact same. Long story short…this book isn't a key. If I were to choose between two recents comics, Marvel Comics Presents #6 would be the stock I'd buy. Much smaller print run, only one cover, and greater character pedigree.
Don't get me wrong, I like a good variant as much as the next guy, but when it involves a first appearance…a first appearance is a first appearance. Those of us who have the lenticular cover of Thanos #13 should be just as happy as if we had the Albuquerque cover, because it's the exact same story featuring the first appearance of the exact same character. Now with that said, Thanos #13 may become a key down the road, but right now it's just a HOTT book. Books that have heat without ratio variants are much more in my personal wheel house of "key". Ratio variants are literally made for buyers and speculators to compete for…they're not meant to be read. The old rule of thumb is, when something is made to be collectible, it isn't. Well I guess that is a 1990's comic book notion, because it certainly doesn't apply to today's market. Gimmicks ruined comics before, and may very well ruin comic books again.
Take for instance the king of keys; Action Comics #1. There were right around 200,000 copies of this book printed back in 1938. That is a print run larger than at least 95% of today's single issue market. There is also only one cover of this (and don't get me started with second printings being considered variants now). This key comic book wasn't made to be rare, and by today's standards 200,000 copies certainly wouldn't be a rare book. It became rare due to the times and lasting significance. These were ten cent comics, meant to be read and colored on. People actually cared about helping their country and donated to war efforts and paper drives. Now there are less than 300 in existence. Key comics have homage paid to them, they transcend the market. Obviously this is the extreme example, but an example nonetheless.
Also, it's hard to call something a "key", when everyone owns one, and in high grade for that matter. They aren't reading the story, they're buying it off the newsstand and shipping it to the grading service of their choice. Imagine how many people are going to do that with this most recent Captain Marvel issue. I'm not saying that something has to be rare to be deemed a key, as there are plenty of key comics that have large print runs, I just feel that the term is thrown around far too often.
It's rare that a book becomes a key comic right out of the gate. Off-hand I can only think of NYX #3 as being a book that is deserving of that title fresh off of the newsstand. New Mutants #98 literally wasn't a key until about ten years ago, and that came out in 1991. Ultimate Spider-Man #1 was almost an instant key, but that had a handful of covers, and Edge of the Spider-Verse #2 could be argued, and may very well be, but the Land variant is far superior value wise. In today's market, stories and characters are no longer what make a book a key, the rare cover is. What a shame. If you have some ideas of overnight keys that have maintained significance, please comment below, but leave it separate from your contest entry.
In my eyes, a key comic book is the first appearance of a significant character, a significant event in a comic book, or a classic comic book cover. All of which can only be decided by the test of time. You can have personal favorites or sentimental preference to a book, but poor speculation on your behalf, doesn't merit labeling something a "key" on your YouTube channel.
Key First Appearances- Amazing Fantasy #15, Detective Comics #27, Action Comics #1, Hulk #181 etc. etc.
Key Significant Event- Amazing Spider-Man #121, Iron Man #128, Civil War #1 etc. etc.
Key Classic Covers- Hulk #340, Silver Surfer #4, Infinity Gauntlet #1, Secret Wars #8 etc. etc.
Also, food for thought. If a particular character could only have a maximum of ten "key" comics, which would they be?
Spider-Man-
There are 100% more valuable Spider-Man books out there then some of these, but as far as significance to the character, this would be my top 10. Obviously it's arguable, and that's the fun of it. Take for instance my example of an undervalued key comic book.
It's a top five Wolverine comic book cover. It's a part of the Dark Phoenix Saga which is arguably the X-Men's most significant story arc. It's the first solo Wolverine cover, and I personally believe that this is when Wolverine took over as the face of the X-Men. Any of you late 80's or early 90's kids remember how BAD*$$ it was watching Wolverine pummel the Hellfire guards in the X-Men animated series? Just imagine when Disney (which purchased 21st Century Fox…something I predicted over two years ago on this very site), makes a Dark Phoenix phase and we get to see Wolverine kicking Hellfire Club tail for an entire film! Don't forget that what Deadpool, Harley Quinn, and Venom are now, Wolverine was tenfold in the 1990s. When he is put back on the big screen, and done correctly in costume, all things Wolverine will be selling like hot cakes. There are not many sure things in comic books…Wolverine is one.
Here is a brief list of some other choices of undervalued keys. I truly think the market just hasn't caught up to these, and if I were treating comics as stocks, I'd look into these.
This is the first appearance of some heavy hitters in current DC! Cyborg, Starfire, and Raven, as well as a first appearance of the New Teen Titans! This should be a book that sells in the $300-$500 range, and sure 9.8s do really well, but raws can be found relatively cheap. These characters are all still prominent in today's comics as well as a bunch of cartoons. It's a no lose book.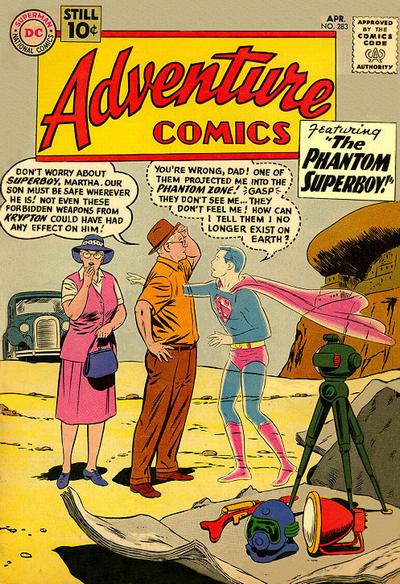 First appearance of General Zod aka Superman's second biggest villain. Books near mint at right around $600, but raws can be found much cheaper. If he had appeared in a Superman book, I feel this would be much more sought after. It just seems not many people give a damn about Superboy. Zod has appeared in a few of Superman's feature films and is really one of the cooler villains you're going to find.
The first appearance of Attuma. It's just a matter of time until a Namor film drops, and Attuma is the big bad they'll be using. If Aquaman was successful, just about anything will be.
Marvel Spotlight #6 (Vol. 2) –
The first appearance of Star-Lord in comic books is grossly undervalued. He is an A-list Marvel character with nothing but upside. Rockets first appearance in comics is HOTT, and that's one of the worst covers out there. This book will get smoke, it's just a matter of time.
Okay okay…Still a book most of us can't afford, but let's face it, out of all the original Marvels, Daredevil is the adopted one. Daredevil #1 can still be found under $1k, which you can't say for any of the first appearances of Iron Man, Spider-Man, the X-Men, Hulk, the Fantastic Four, etc. Daredevil has a good following, has had a movie as well as a successful Netflix series. Hell, some Spider-Man villains are harder to get then him. The market will soon realize that this is the grail new collectors should go after to get their beak wet. It's affordable enough, and is a sure thing. And I only bet on a sure thing. I suppose that's why I'm a Patriots fan.
As for ridiculous speculation is concerned, how about Ultimate Fantastic Four #21 seeing gains again. Now I said ridiculous, not because I think this isn't a key comic book. I in fact do believe that the first appearance of Marvel Zombies is a key. What I believe is ridiculous is that this book has gained smoke due to a scene in Spider-Man: Far From Home depicting an undead Iron Man. Just Stop…
Seriously though, I've always been high on this book. When it was released Ult. FF #21–#23 were all selling really well. Ultimate Fantastic Four #22, the first full appearance of the Marvel Zombies has a great Magneto cover and use to be an easy $20 bill.
To further my argument on this key, is the impact Marvel Zombies have had. There have been several mini-series and one shot specials, as well as another series dropping later this year. Marvel Select put out action figures years' back, as well as minimates of the characters. The first and second series have awesome homage covers, and solely kept Arthur Suydam employed. Other stories and series were getting Marvel Zombie variants, and so on and so forth. Fact of the matter is, if you collected then, you remember the gimmick of Marvel Zombies, and 15 years later, it still hasn't gone away. Just imagine down the road when Disney+ does a Halloween animated feature based on this story. I think that'd be killer.
With all of that said, it's time for me to go back into my PC and have a giveaway contest. I'll be giving away the three issue set of Ultimate Fantastic Four #21, #22, and #23 from my collection. All you need to do is argue an obscure and undervalued "key" comic book on your behalf. Make sure that the book you're arguing is not already widely accepted as a key comic book. Invoke some thought, state some points, and make a strong argument. If you pick a first appearance, tell me what makes that significant. If you say an event, explain why it matters. A book similar to the likes of Uncanny X-Men #133 listed above. Good luck and I look forward to your entries!
As always thanks for stopping by Diesel City…this is A.J. Diesel, with respect and class.